Stamping Progressive Die for furniture metal stamping parts
Item No.: 1
Progressive stamping dies are made using a feeding system that feeds a sheet of metal through the system. After the sheet metal is in place, it goes through a station that progressively creates the desired finished part. By using a pitch, the machine can
INQUIRY
Description
Progressive Die Stamping
Zhaoyue Mold Machinery Limited offers progressive stamping die designing & progressive die design and manufacturing of both large and small sizes. We specialize in applications for the automotive and household appliances industries. Progressive dies are most effective in higher-volume production operations and are designed to operate at high rates of speed. and Reduce the cost of choose and employ persons. Our high quality progressive die will manufacture precise, high quality parts with high repeatability with minimal production downtime.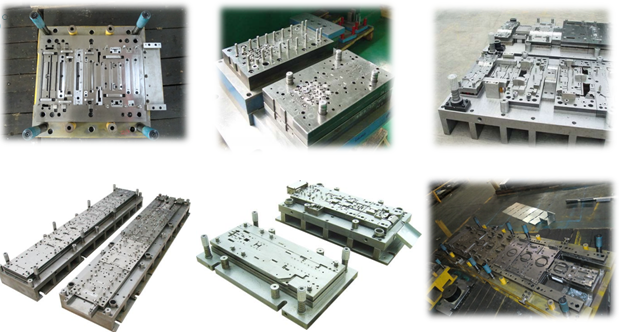 ---
Progressive Die Manufacturing:
Progressive dies are made using a feeding system that feeds a sheet of metal through the system. After the sheet metal is in place, it goes through a station that progressively creates the desired finished part. By using a pitch, the machine can detect where on the metal sheet to punch, bend, cut or stamp the metal sheet. Advantages of progressive dies include large runs that can be made quickly with only one pass required. Using CAD models, our machines can construct and design metal stamping dies in a timely and efficient manner that will create metal parts to your exact specifications.
Zhaoyue Mold Machinery Co., Ltd has the experience and expertise to deliver progressive die design, manufacture progressive dies and allow you to tryout progressive dies that will solve all of your part and manufacturing challenges.
---
Organizational structure

---
MOULD SERVICE
MOQ
1 SET
Sample lead time
About 5-6 weeks ,according to the mold
Products lead time
About 2-3 weeks,after finish new mold
Payment term
T/T, L/C, Westion Union
Mold payment term
50% advance payment, balance 50% before shipment
Port of loading
Guangzhou or Shenzhen Port
Package
Rust-proof,protection,fresco bag,wooden bag,wooden case,suitable for shipment.
The quotation can be made based on drawing or samples provided by the cusotmers
1.Sample/Drawing
Provided by cusotmer
▼
2.Negotiation
Product Material,Mould cavity, price,delivery time, payment term ,etc.
▼

3.Place order
After confirmed the 3D design
▼

4.Mould design
We will communicate & Exchange the opinion with you during making drawing
▼

5.Tooling mould
After custome approve the mould design will start making mould.
▼

6.Mould process
Provide photos for customer show them tooling process
▼

7.Sample confirm
Send you sample for confoirm it ,if not satisfied by customer.we modify mould
▼

8.Delivery mould
Delivery mould aftercustomer approve sample and arrange shipment.
---
Mould product Circulation And Container Mould Packing Details:

---
Stamping die Making Advantages:
1. We have been engaged in stamping die field for more than 15 years and have much experiences in manufacturing stamping die,Stamping Progressive Die,precision parts mould,etc.
2. We are market-leader in mould industry in China.
3. Reasonable collocation in moulds helps you to save cost.
4. Mould design is decided by customer's requests,such as cycle time,employee quantity,mould machine specification,PDSOFT PID.etc.
5. Mould making process can be tracked according to the schedule.
6. We are always searching technical communication with our customers. The purpose is to prevent misunderstanding and modification after moulds are completed.
7. We can supply you the schedule statement, inspection statement, warranty of each set of mould and the video of the mould.
8. We will reply your inquiry within 24 hours.
Zhaoyue Mold Machinery Limited
Add: Shangni Village Industrial Area, Lanhe Town, Nansha District, Guangzhou, Guangdong, China.
Contact: Cindy Wu
Mobile: 0086-135 3336 7228 (WhatsApp)
E-Mail: cindy@zhaoyue-mold.com
Website: www.zhaoyue-mold.com
---
xinxuyang
Oct 19, 2018
i need the price
kenin
Oct 13, 2018
hello,i need more messasary
1