Progressive stamping parts
Item No.: 7
metal stamping has been replacing other metal forming processes (such as forging and die casting) because of the low production costs. The products can also be stronger and more durable than those made in other metal forming processes.
INQUIRY
Description
Progressive dies are most effective in higher-volume production operations and are designed to operate at high rates of speed. and Reduce the cost of choose and employ persons. Our high quality progressive die will manufacture precise, high quality parts with high repeatability with minimal production downtime.
Zhaoyue Mold Machinery Limited has large and precision stamping machines,With simple press production line and Progressive Die Stamping production line,Supply high quality stamping parts to furniture factory, toy factory, electronics factory, household appliances manufacturing plant, automobile manufacturing and other related industrial products.
Part of Progressive stamping products:
Our machines can construct and design dies in a timely and efficient manner that will create parts to your exact specifications.
Zhaoyue Mold Machinery Limited has the experience and expertise to deliver Stamping die design, manufacture stamping dies and allow you to tryout stamping dies that will solve all of your part and manufacturing challenges. Our experienced staff has the industry and application experience to design a custom die or stamped part ,that will meet our customers' exact specifications.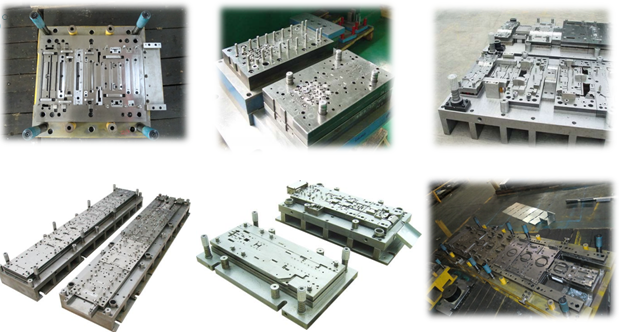 We have large and precision stamping machines,With simple press production line and Progressive Die Stamping production line,with pressing machine :500T,350T,200T,160T,110T;oil press 400T.
To ensure our customers get the highest quality proeduct with the greatest consistency, Zhaoyue Mold Machinery Limited is ISO 9001:2008 certified, holding ourselves to a higher standard that requires our company to consistently meet our customer's needs and continuously improve. In addition, we also hold an ISO 14001:2004 certification for our systems put in place to manage our environmental responsibilities.
---
---
The quotation can be made based on drawing or samples provided by the cusotmers:
1.Sample/Drawing
Provided by cusotmer
↓
2.Negotiation
Product Material,Mould process design, price,delivery time, payment term ,etc.
↓
3.Place order
After confirmed the manufacturing process
↓
4.Mould design
We will communicate & Exchange the opinion with you during making drawing
↓
5.Tooling mould
After custome approve the mould design will start making mould.
↓
6.Mould process
Provide photos for customer show them tooling process
↓
7.Sample confirm
Send you sample for confoirm it ,if not satisfied by customer.we modify mould
↓
8.Make to order
arrange production after customer approve sample and arrange shipment.
---
Packing & Loading:
Zhaoyue Mold Machinery Limited
Add: Shangni Village Industrial Area, Lanhe Town, Nansha District, Guangzhou, Guangdong, China.
Contact: cindy Wu
Mobile: 0086-135 3336 7228 (WhatsApp)
E-Mail: cindy@zhaoyue-mold.com
Website: www.zhaoyue-mold.com